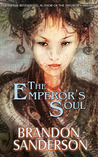 The Emperor's Soul by Brandon Sanderson
My rating: 3 of 5 stars
I wouldn't say I was blown away, because I wasn't. The flow was good without being great and the story was original and interesting without drawing you in fully as I have come to expect from Brandon Sanderson works. I wouldn't say I didn't like the book, because I did. The characterisation and it's progression was good without being mind-blowing. It was but a few master strokes from a gifted hand without the need to complete the whole picture. What I felt was this was a 'filler' sort of thriller that didn't employ the author's full attention. I have seen Brandon at work and his stories are works of art. If his works are normally gods, this turned out to be a demi-god. I wouldn't say I didn't like it because I did. I loved it. This is simply the cost of continued excellence. We continue expecting more and more.