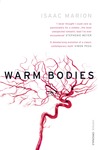 Warm Bodies by Isaac Marion
My rating: 4 of 5 stars
The plot for Warm Bodies is something new, I would give it that. It was so new that it drew me in instantly. I couldn't put down the book. The characters are vivid and individual in their personalities. R stands out. M stands out. Julie stands out. Perry too. I really enjoyed being in their lives. I loved the descriptions, the setting, all good. The book doesn't get the 5 stars simply because I find Zombies a turnoff. Personal disgust. Isaac Marion is a gifted writer. Totally recommend this.